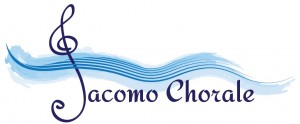 Welcome to the JACOMO CHORALE 
The JACOMO Chorale will begin rehearsals for it's 35th season on August 17th.  Our fall concert "Going to Kansas City" will be presented on October 21st and 22nd. The Christmas concert will be on December 15th and 16th. The spring presentation will be on April 21st and 22nd, 2018. The JACOMO Chorale is a non-auditioned community chorale and is always interested in adding additional members. Voice placement for prospective members is conducted by Dr. Vasconcellos, the Chorale's director.
The Chorale rehearses at Mission Woods Community of Christ Church, Blue Springs, on Thursday evenings and presents two to four unique concerts per year at various venues in the local area. Rehearsals are held from 7 to 9 PM at Mission Woods Community of Christ Church, 2800 Duncan Rd, Blue Springs.
The Chorale is always looking for additional talented singers to join this dynamic group. For additional information, please contact Nancy White at njwhite1973@gmail.com or (816)355-0114.
The JACOMO Chorale performs at a variety of venues in the Kansas City area. Check out Schedule page for further details.
---
AUDITIONS
Music lovers and singers of all levels are welcome into the JACOMO Chorale. There is no formal audition to join the group. Instead, prospective singers will go through a process of voice placement. Prospective singers will be asked to perform the following tasks:
1. Sing  a tune which he or she feels comfortable, such as a church hymn, a folksong, a bel canto/operatic piece, a jazz standard, or even a popular song.
2. Sing "Happy Birthday" in three different key signatures.
3. Describing his or her level of comfort with written music.
Regardless of the skill level of the prospective singers, they will be invited to attend the first rehearsal in order to have an idea about the pace of practices and the level of expectation on the part of the conductor as well all the other members. Please call Nancy at (816) 355-0114 for additional information. 
Would you like to be notified of upcoming Chorale events?   – Join our Mailing List
Mailing Address:
 JACOMO Chorale
15009 E. 46th St. S
Independence, MO 64055
Comments are always welcomed. Use the space below to contact us.