IMPORTANT ANNOUNCEMENT
The Board of the JACOMO Chorale has made the difficult decision to suspend rehearsals and postpone our concert until the risk from COVID-19 has subsided. If conditions improve in the next few weeks, we might be able to reschedule the concert to May. Please keep checking back after a couple of weeks as to our status of our spring concert. Thank you for your continued support of the fine arts.

Are you looking for a fun singing group? We are a community chorale; a non-auditioned group of singers who enjoy all types of music: classical to pop, folk to patriotic, secular to sacred, and much more!
No need for advanced music skills, just a great passion for singing and working within a group! To decide if you would be a good fit for our chorale, you are invited to open rehearsals at Mission Woods Community of Christ church: 7-9 pm. January 16th and 23rd. Address: 2800 N.W. Duncan Rd, Blue Springs, MO 64015. We will be starting to practice selections for our Spring concert, to be held on April 25th and 26th. The location of our concert on the 25th TBA. The Sunday afternoon concert on the 26th will be held at the Good Shepherd Community of Christ, 4341 Blue Ridge Blvd, Kansas City, MO 54133.
Please let us know of your interest by calling Nancy White, Chorale Manager
816-560-9148 or njwhite1973@gmail.com
We are working hard to enlarge our group….Come check us out!!
The JACOMO Chorale is directed by Dr. Helena Vasconcellos and accompanied by Michelle Proen. For additional information, please contact Nancy White at (816) 560-9148. The JACOMO Chorale is a 501(C)3 not for profit organization.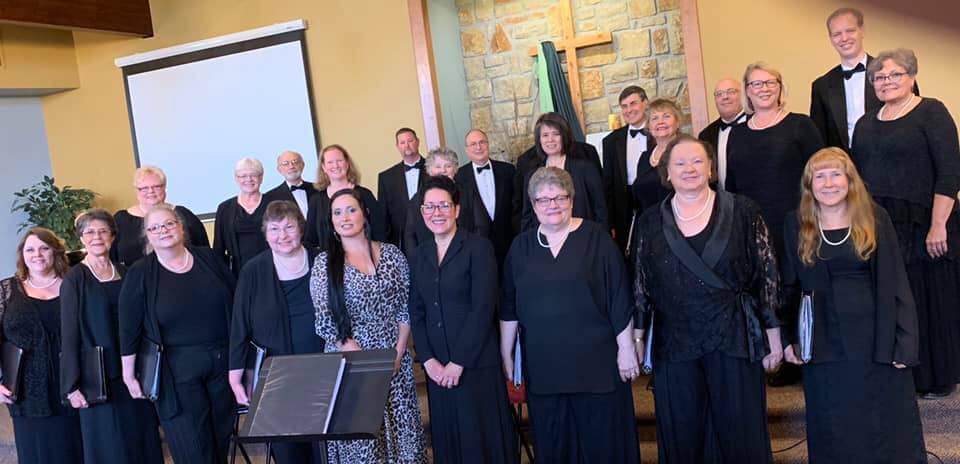 Welcome to the JACOMO CHORALE  
The JACOMO Chorale is a non-auditioned community chorale and is always interested in adding additional members. Voice placement for prospective members is conducted by Dr. Vasconcellos, the Chorale's director.
Rehearsals are from 7 – 9 PM at Mission Woods Community of Christ, 2800 Duncan Rd, Blue Springs on Thursday evenings.
Regardless of the skill level of the prospective singers, they will be invited to attend the first several rehearsals in order to have an idea about the pace of practices and the level of expectation on the part of the conductor as well as the other members.
The Chorale performs at a variety of venues in the Kansas City area.  See the Schedule page for further details and further information about past performances.  The chorale presents two performances of the same concert three times a year.
 Follow us on Facebook at "Jacomo chorale"
 Amazon Smile is one way to help the Chorale when you purchase items from Amazon.
---
Would you like to be notified of upcoming Chorale events?   – Join our Mailing List
Mailing Address:
 JACOMO Chorale
1205 NW Cedar Lane
Grain Valley, MO 64029
Comments are always welcomed. Use the space below to contact us.